Wood iPhone case Review
Review: ifrogz vs iWood iPhone cases – does wood work?
November 11, 2022 – 10:54 pm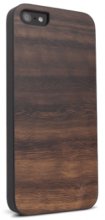 I've never been greatly enamoured of the concept of phone cases. You pay all that money for a beautiful design that Jony Ive and his team sweated over for months, then hide it in some butt-ugly plastic case.
I've always just used a matte screen-protector (as much to remove reflections as protect the screen from damage) and a Zagg stick-on leather cover for the rear, leaving the phone reasonably well-protected from scratches but without making it look like something bought from Toys-R-Us.
But I was intrigued when I saw that a couple of companies had brought out iPhone cases made from real wood. I love wood as a material, so decided to give the cases a try. On test here are the Zagg ifrogz Natural Wood Case for iPhone 5 and the Miniot iWood for iPhone 3/4/5 …
The woods
The ifrogz case is available in a choice of six funky-looking designs: Oasis, Rockwood, Koala, Surf, Zabrano, and Cacao: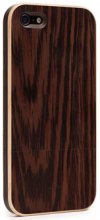 I'm very much of the 'less is more' school of thought, so opted for the Koala:
This is an absolutely gorgeous-looking dark wood with an interesting grain pattern. At first glance, it's a horizontal grain blending lighter and darker colours, but a closer look reveals a kind of mottled overlay. It's a very attractive wood.
The iWood is available in six woods: Walnut, Padouk, Cherry, Oak, Mahogany and Maple:
They also offer customised inlayed designs in a separate range:
(The options for iPhones 3 and 4 vary.)
I opted for Oak, as it's one of my favourite woods, and matched my desk:
First impressions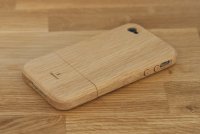 The two cases are completely different beasts. The ifrogz case is described as 'made of real wood fused with a TPU frame', which is effectively a wood veneer on the rear of a plastic case. The sides are plastic, and the top and bottom open. The iWood, in contrast, is made from a single piece of solid wood, with no plastic at all. Back, sides, top and bottom are all completely surrounded by the wood, and even the power and volume buttons are covered with real wood ones.
The difference between the two cases is also evident when you handle them. With the ifrogz case, you are holding it by the plastic sides, with the feel of the wood only at the rear. The wood veneer at the rear is beautiful, but overall it still has the look & feel of a plastic case. With the iWood, you are touching nothing but wood, even when operating the buttons.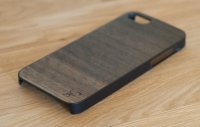 I have to confess that at this point I was pretty much expecting to chalk it up as no contest: on look & feel alone, the iWood was streets ahead. But this, as I was to discover, was not the end of the story.
Construction
The ifrogz case is a simple, slip-on design that you can apply and remove in seconds. It's thin, with a single cutout in the plastic on the left-hand side for the mute switch and volume buttons.
The iWood case is a thick case enclosed on five sides. It is supplied as two pieces which slide onto either end and then snap together. I wondered how fiddly this might be, but in fact it was extremely easy to do.
In use
The ifrogz case really doesn't affect usage at all. Power and volume buttons, and the mute switch, are all just as easy to operate as the naked phone. With the slim casing and open bottom, it should fit pretty much any charging dock, and if it doesn't it's a matter of seconds to remove.
Did I mention that the iWood case is thick? This is easiest to see in the camera cut-out, where Miniot has had to cut four steps into the opening to avoid constricting the view for the lens. The wooden button covers are also not there just for aesthetic reasons: without them, you'd never be able to reach the original buttons.
As an aside, the misalignment you see there is after I tried to remove the case – of which more in a moment …
The thickness of the case creates two issues. First, difficulty in operating the mute switch. I managed this with a little effort initially, but straight after trimming my nails it was quite a challenge!
Source: 9to5mac.com
RDTGEH-3489-fjvSg 1 Landscapes Jungle Forest Woods Ferns Moss Plants Green Protective Case Cover Skin/iphone 6 Case Cover Appearance


Book (freshmilk)




Protect your new iphone 6 with our high quality bumper case.
Most fashion design for your iphone
Color: optional,as pictures show
Easy snap-on/off installation and the cover case gives your iphone 6 a safe protection
All emails will be answered within business day. if you do not receive our reply, please kindly resent your email and we will reply to you as soon as possible.
iPhone SE / 5S / 5 Wood Case, NeWisdom Unique Slim Hybrid Rubberized [Wood over Rubber] Soft Real Wood Case for apple iphone SE / 5S / 5 - Sandalwood


Wireless (NeWisdom)




Natural Synthetic Case. Combined with Genuine wood Layer & Premium TPU Rubber; No Weird Chemical Smells, Healthy;
Unique & Attractive. Each case is unique based on real wood skin layer, looks better on hand than picture;
Practical Protector. Easy access to all buttons. The case can protect the screen, lens, and bumper edges very well; But we highly Recommend to match this case with...
Durable & Comfortable Partner. A Soft non-slip and great feeling touching natural wooden case. Fingerprints and smudges free, non slip, not bulky, Slim, great...
Human-friendly Design. Best Structure Design make the cover like a glove, fits tight to the phone, but easy to remove as well.
SAXON13 Men's Funny Supernatural Driver Picks The Music Raglan 3/4 Sleeve


Book ()




100% Cotton Raglan
Three-Quarter Sleeve.
Machine Wash.
Raglan Shirt Toddler
Within Two Weeks Arrival

iPhone 7 plus Stylish Case, NeWisdom [Nature Series]Unique Slim Soft Rubberized Wood Cover [ Thin Wood Layer over Rubber ] Case for Apple iPhone7 plus - Sandalwood


Wireless (NeWisdom)




UNIQUE. Genuine Thin Natural wood layer over soft TPU rubber. Touch wood for luck.
WELL DESIGNED. Thin, non slip, not bulky. Good grip. Fits well, buttons responsive, easy to put on and off as well.
IMPACT RESISTANT.Has better impact resistant performance than common case.And we strongly recommend you use it together with screen protector to get best drop protection.
FANTASTIC GIFTS. Good xmas gift OR birthday present for your husband / wife / boyfriend / girlfriend / brother / sister / friends, ect.
NOTE:If you do not believe it is real wood,just bend hard to break it or scratch it with a knife. We can compensate double if it is not real wood layer,but we will...

LFISH3 Captain America Civil War Smooth Athletic Running 3X


Book ()




One Color But Colorful Design Fits Most.
5 Sizes Available.
Men s Performance Shorts Sweatpants Gifted For Men.
Need 6-16 Days Delivery.
Print Side.
Related posts: