Moshi iPhone case Review
Moshi iGlaze & iGlaze Armour review; iPhone 6 protection in style
July 4, 2022 – 08:50 pm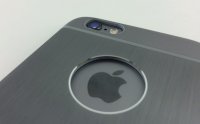 Like most, you'll probably take your shiny new iPhone 6 and cover it with something. We can't fault you for that. The iPhone 6 is pretty spectacular, so you'll want to keep it looking as new as you can. For that, we suggest you check out the Moshi iGlaze or iGlaze Armour. The two cases are very similar, but also uniquely suited to your taste and level of concern over your new phone. If you're in the market for a case, we suggest you check this review out.
Both are similarly constructed, and offer little in the way of 'new' when it comes to cases. They'll cover the back and sides, and leave you room to access the ports. Power and volume buttons are protected, but you can still access them via a raised faux-button on either side.
Both are constructed with Moshi's proprietary 'hybrid' formula, which protect your phone from scratches or dings with a shock absorbing inner shell bonded to a shatter-proof polycarbonate outer casing. A raised bezel around the edge protect your phone when you have it face-down.
For those who like to see their Apple logo, Moshi's iGlaze and iGlaze Armour have a circular cutout for you. The camera cutout on each is also ample, but you won't be attaching any lenses.
Aesthetically, the case is meant to mimic your phone's style. Save for the phone being a touch bigger and the circle around the Apple logo, you wouldn't know there's a case on the phone from a distance.
Where the iGlaze Armour stands out is the diamond-cut aluminum plate around back. It adds a touch of class, and adds a bit more protection, especially from torsion.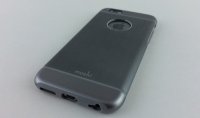 In use, both offer great protection from slight drops and other minor bumps and bruises you'll find day-to-day. The button covers are also responsive, and react just like the phone button itself.
The iGlaze Armour adds peace of mind, as the aluminum case protects against sharper objects. If you were to bump into the corner or side of a table, the iGlaze Armour would be really handy.
I wasn't a fan of the raised area around the screen. It takes away from the sloped sides of the iPhone 6, which I like when scrolling. The raised sides aren't 'in the way', but they make themselves known from time to time.
An admitted case snob, I find the iGlaze and iGlaze Armour great for their audience. If you find yourself wanting a bit more protection, either will do the trick. The iGlaze is probably enough for many, but if you want that added peace of mind (or have kids, or are clumsy), the iGlaze Armour is a good idea.
Both cases can be found via Moshi's website. The iGlaze will set you back $29.95, while the iGlaze Armour runs $39.95. That's a bit higher than many cases, but Moshi has a strong reputation, and we trust their hybrid construction methods. Neither are the slimmest cases you'll find, either, but if you're willing to sacrifice a touch of sleekness to protect your investment, these are the way to go.
Source: www.slashgear.com
Related posts: