Ematic Android tablet reviews
Ematic's new 7-inch Android 4.1 tablet costs $79.99
August 17, 2018 – 08:10 pm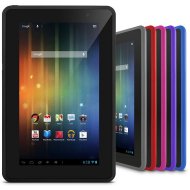 The Ematic Genesis Prime Android 4.1 tablet comes in your choice of colors for $79.99. Ematic
Dirt-cheap tablets have been around for years, but most of them have proven disappointing. Spend less than $100 and you're almost certain to get stuck with a resistive touch screen (one that requires pressure to recognize a tap or swipe), a pokey processor, an outdated version of Android, or a seriously limited app store. Maybe several of the above.
What does 80 bucks buy you versus, say, a $200 Nexus 7? As you might expect, the Genesis Prime offers decidedly entry-level hardware, including a 1.1GHz processor (with dedicated GPU), 4GB of storage, a front-facing VGA camera, and a 7-inch screen running at 800x480.
Thankfully, although the press release and specs don't mention it, the tablet also has a microSD slot for adding up to 32GB of extra storage. Ematic also provides 5GB of cloud storage via Pogoplug (which, for the record, offers 5GB of cloud storage for anyone).
Because the Genesis Prime is Google-certified, it offers full access to the Google Play store. I've seen other off-brand tablets promising the same, but it usually turns out that certain apps aren't available or compatible. Here, in theory, you should be able to run just about everything, and purchase movies, music, and books as well.
The Genesis Prime has a few other points in its favor as well. It's available in your choice of colors (anyone else sick to death of basic black and occasional white?), it runs Android 4.1 (Jelly Bean), and, of course, it costs less than some dedicated e-readers.
I'm not saying this is anywhere near the Google Nexus 7 or even Amazon Kindle Fire in terms of performance, but it should handle the basics pretty well: browsing the Web, checking e-mail, watching YouTube vids, playing games, streaming music from your preferred cloud service, reading books, and so on.
The Genesis Prime is currently available for preorder from Amazon and J&R, and it's coming soon to Walmart. According to an Ematic rep, it should start shipping "within a month."
What are your thoughts on this? Is a Google-certified tablet for $80 too good to pass up, or do some of the specs (like screen resolution) kill the appeal? And if you've found a different dirt-cheap tablet you like, tell me about it in the comments!
Source: www.cnet.com
Ematic Bluetooth Wireless Speaker & Speakerphone for iPhone, iPad, iPod, Android devices, & Laptops, Black


Speakers (Ematic)




NOTE:Kindly review the videos under the image section and user manual under product details for set up and user guidance.
30+ feet range depending on environment
Answer calls and functions as a speakerphone,MicroSD Playback
Enjoy movies and games from your laptop, tablet, or smartphone loud and clear
Line-in for use with devices without Bluetooth
Related posts: