Apple iPad Air VS Samsung Galaxy Tab
Samsung Galaxy Tab A 9.7 vs
May 20, 2022 – 07:17 pm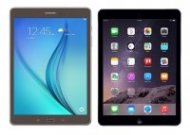 People in the market for a full-size tablet that's not too expensive might find themselves debating either the original Apple iPad Air or the recently-released Samsung Galaxy Tab A 9.7. These two models appear very similar and their prices aren't too far apart, so choosing between them isn't easy. But we're here to help.
Samsung seems to have designed the Tab A 9.7 to be as similar as possible to the iPad Air. The devices have the same screen size, their screen bezels are nearly identical, and their corners are similarly rounded. They are both very thin and their weights are almost equal.
Specifically, the Apple model is 9.4 by 6.6 by 0.3 inches, while Samsung's is 9.6 by 6.6 by 0.3 inches. Both weigh almost exactly a pound, and each is equally easy to hold for long periods.
The iPad comes in dark grey and white, while this version of the Galaxy Tab comes in these same two colors, plus blue.
The build quality of both tablets is high, with each feeling like a quality product.
Our comparison in this particular area is a tie, as these models are nearly identical.
Screen
Although the Tab A 9.7 and iPad Air each has a 9.7-inch display, the resolution of these is dramatically different. Apple's model has a 2048 by 1536 screen, giving it 264 pixels per inch (ppi). The Samsung device, on the other hand, has a resolution of 1024 by 768 and a pixel density of 132 ppi.
To put it another way, for every pixel in the Tab A, the iPad Air has four. The result is that everything on the iPad display looks crisper and clearer, especially text. In our usage of these devices, we feel that the Samsung device doesn't have a bad display, but 132 ppi is definitely lower than just about all its rival devices, not just Apple's offering. And the iPad Air has one of the best screens available on any tablet.
Screen quality is one of the most significant differences between these two tablets, and it's an area where the iPad Air wins hands down.
Buttons and Ports
The fact that the Galaxy Tab A 9.7 has a microSD memory card slot and the iPad doesn't is a difference that many will find significant. This slot makes it easy and inexpensive for users to add additional storage capacity to this tablet. Users of the Apple device aren't out in the cold, however, as there are a number of flash drives on the market made specifically for the iPad, such as the SanDisk iXpand.
Just about everything on Apple's device is either controlled by the large Home button on its front, or with on-screen buttons. The Samsung model is almost as bare, with a large Home button located in the same place as the iPad, but with Back and Recent buttons silkscreened on either side. Both tablets also have Power and Volume buttons.
Source: www.tabletpcreview.com
iXCC Element Series Apple MFi Certified 2 in 1 Dual Connector Lightning to MicroUSB Sync and Charge Cable for Smartphones & Tablets - 3 Feet (0.9 Meters) - Standard Packaging - Black
Wireless (iXCC)
Apple MFi Certified Lightning cable, 100% compatible with ios and no warning message. 3 ft 2in1 ( micro USB connector with 8 pin adapter) design makes the cable...
One convenient 3 feet cable is ideal for usage while charging in home, car, office, and more.
8pin lightning adapter is compatible with iPhone5, 5c, 5s, SE, iPhone 6, iphone 6 Plus, iPhone6s, iphone6s Plus, iPhone 7, iPhone 7 Plus, iPod Nano 7, iPod Touch...
Micro B adapter is compatible with Samsung Android systems, including Galaxy Tab, Tab2, Tab3, Tab4, Samsung S2, S3, S3 mini, S4, S5, S6 (Edge), galaxy3, galaxy4...
iXCC award winning 2-year warranty ensures long-lasting enjoyment of your purchase.
Related posts: