IPhone LifeProof case Review
Lifeproof Fre lets you to take your iPhone 6/6s anywhere, even underwater
February 3, 2018 – 10:24 am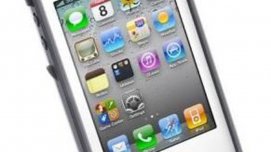 For a lot of us, our smartphone is an indispensable tool that goes with us everywhere. It makes sense that you'd want your phone to be able to survive anything, including accidental drops, snowboarding wipe-outs, and a dip in the pool. To get the most protection for the iPhone 6/6s, consider the Lifeproof Fre, which promises to deliver superior water, dirt, snow, and drop protection.
The Fre case is a two-piece, hard shell with edges that are wrapped in a plastic bumper for shock absorption and drop protection. Between the two halves of the case, there is a rubber O-ring seal where they meet on the inside, creating a dust and liquid barrier. A built-in, plastic screen protector and raised lip around the screen protects the glass from dirt and scratches, while the home button is covered with a slightly thinner, flexible film that allows you to use the fingerprint sensor without interference. The screen protector is flat and smooth, though it slightly diminishes the visible resolution. However, this does not impact functionality, and it remains fully compatible with all the touch capabilities of your phone including Touch ID and 3D Touch.
Related: Apple will reportedly give you trade-in credit for your busted up iPhone
The buttons on the sides of the phone like volume, mute, and sleep are fully encased but usable via pass-through raised rubber buttons. For the headphone port, you'll find a screw-in cap protecting it from dust and liquids. When that cover is opened, it's tethered to the case, so you can't lose it. Each case comes with a gold-plated, threaded headphone jack extender, enabling you to use waterproof headphones and keep your phone watertight at the same time. A snap cover with a rubber seal provides similar protection for the charging port. However, the opening for the Lightning connector is precision cut to the OEM cable from Apple, so if you're using a third-party cable for charging, there's a chance the connector may not fit the cutout under the cover.
Both the headphone and charging port covers must be tightly sealed in order for the case to be waterproof, and Lifeproof insists on testing this feature sans phone before you attempt to use the case in water. In our test, the empty case performed perfectly with no leaks when submerged for an hour in a bucket of water, though the Fre purportedly can handle up to an hour at a depth of 6.6 feet. One unavoidable impact of having your phone fully enclosed is that the sound transmission both from the speakers and to the microphone are somewhat dampened. At the expense of waterproofing, you may find yourself talking a little bit louder than you're used to.
Source: www.digitaltrends.com
Related posts: