Tablets with keyboard Docks
Keyboard Docks Buying Guide
December 24, 2015 – 12:41 pm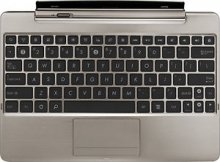 Tablets have become increasingly popular in today's market, as they provide a middle ground between laptops and smartphones. There are many accessories for tablets and one that is in high demand is the keyboard dock. Keyboard docks allow users to use the tablet like a laptop computer. Some keyboards have dock connectors, while others connect to the table via Bluetooth. Keyboard docks can even lengthen the battery life of the tablet. Users should look into purchasing a keyboard dock with features that will enhance their tablet-using experience.
All About Keyboard Docks
Tablets have many great advantages; however, writing and typing long notes or articles is not always easy on a tablet. Because tablets are slowly becoming one of the main forms of technology for writing emails, taking notes, creating presentations, etc., it may be beneficial for users to invest in a keyboard dock. Tablet keyboard docks include most of the keys that a standard keyboard has, plus more keys that are designed to make using a tablet easier. The keyboards are usually slim and light in weight. Some keyboard docks come in bundles that include a case and a stand.
Types of Keyboards
External keyboard can be wireless and connected through Bluetooth, or they can be connected through a dock connector. There are advantages and disadvantages to each type, depending on the user's needs and preferences.
| Keyboard Type | Description | Advantages | Disadvantages |
| --- | --- | --- | --- |
| | Has a sturdy base and connects to the tablet through a dock connector. | Charges and syncs the tablet while in use; less expensive than Bluetooth; stable and secure; many special function keys; some include USB and SD ports. | Can be heavy; not as portable; tablet is placed very close to the user; most tablets cannot be in a case while plugged into the dock. |
| | Connects wirelessly and are lightweight and slim. | Small, slim, light, and portable; the keyboard can be used at a reasonable distance from the tablet; flexibility in placement. | Can be expensive; can be wobbly while typing; does not have additional ports; not always a reliable connection. |
Tablet users should decide which type of keyboard is more beneficial to their needs. Users who will use their tablet keyboards in one place may opt for the keyboard dock. Those who plan on bringing their keyboards with their tablets wherever they go should choose the Bluetooth keyboard.
Keyboard Features
All keyboard docks have an array of features that will enhance the experience of tablet users. When choosing a keyboard, explore the options of different features to make an informed keyboard decision.
Stability
Keyboard docks have a heavy, sturdy, non-slip base, which makes them very stable and secure. Because the tablet is connected through a dock, the tablet does not wobble or shake. This is very important because even with the keyboard, users may need to touch the tablet screen frequently and it can be bothersome if the tablet is shaky. With a Bluetooth keyboard, a stand will be needed to ensure that the tablet stays in place.
Portability
Keyboards that are connected via docks are usually used either at home or the office, and not transported from place to place. They can sometimes be heavy and bulky, which does not make them the best option for portability; however, there are some exceptions. Bluetooth keyboards are usually quite slim and light, making them easy to carry with the tablet. Still, the weight of the tablet, combined with the weight of either the Bluetooth keyboard or the keyboard docking station, is usually lighter than that of a laptop. While the keyboard docking station comes with a secured place for the tablet, the Bluetooth keyboard can be used while the tablet is plugged into speakers or other docking systems. The Bluetooth keyboard can also function as a basic remote control while the tablet is docked in speakers; it allows users to skip and play/pause tracks from across the room.
Special Function Keys
Both keyboard docks and Bluetooth keyboards come equipped with a variety of special function keys. The top row of keys include several different functions such as a home key, picture frame, on-screen keyboard, screen lock, brightness, media playback, and volume control, depending on the device. Some keyboards will have shortcut buttons, which takes the user directly to email, Internet, and music. Many keyboards that are made for Apple products, such as the iPad, will also allow users to use shortcuts used on Mac computers. Look for a keyboard dock with features that will make using the tablet simple.
Keyboard Dock Accessories
After deciding on a keyboard dock, explore the different accessories that can accompany the keyboard. Depending on the keyboard dock, users may want to purchase a stand for the tablet. Most docks come equipped with a stand; however, if the keyboard is purchased alone, a tablet stand can be purchased for a reasonable price. Some users may even opt for a book stand or document stand as a cheap option for a tablet stand. Users may also want to look into purchasing a case for the keyboard. This makes it easier to transport the keyboard from place to place without inflicting any damage. Look for keyboard docks that come in a bundle with a case and a stand.
Things to Consider
After the features have been evaluated, there are a few things left to consider. Users should factor in the compatibility of the tablet and the keyboard, the design of the keyboard, and they should also factor in their budget.
Price
In 2012, the price of keyboard docks range from about $30 to $155. Bluetooth keyboards tend to be more expensive than keyboard docks. Users who plan on using the tablet and keyboard as their primary technology for data input or note taking may want to invest and spend more money on a good quality keyboard dock. Those who will not use the keyboard all of the time may opt for a less expensive keyboard dock within their budget. Users who choose a Bluetooth keyboard should also factor in the cost of a stand and case. Tablet stands can be found for $5 to $50, depending on quality and functionality. Cases can range from $10 for a basic case to around $60 for a designer case, or one that holds both the keyboard and the tablet.
Design
When making a purchase, look at the design of the keyboard dock. It may be beneficial to go to a local retailer and try out some of the options. Some keyboard docks are on the smaller side and could have cramped keys. Make sure that the keyboard is comfortable to use with roomy keys and a tilt that is ideal for typing. Keyboard docks can be white, black, or silver; if available, choose a color keyboard dock that matches the tablet.
Source: www.ebay.com
2016 Newest Premium High Performance RCA Galileo Pro 11.5" 32GB Touchscreen Tablet Computer with Keyboard Case Quad-Core 1.3Ghz Processor 1G Memory 32GB HDD Webcam Wifi Bluetooth Android 6.0-Blue
Personal Computer (RCA)
Introducing the RCA 11 Galileo Pro 2-in-1 tablet with detachable keyboard. The 11 Galileo Pro operates on Android Marshmallow and showcases the operating system...
11.5-inch high definition screen. The impressive 1.3GHz quad-core processor is powerful enough to zoom through applications and tasks. Quickly update your social...
32GB of storage memory When it s time to get down to business, open up the included WPS Office app and create powerful documents and spreadsheets. Effortlessly transition...
Webcams, WiFi and Bluetooth You may also dock the tablet to the keyboard in many positions to suit your liking or intended use. Use the tablet s Bluetooth functionality...
Mini HDMI Output Port: 1 Mirco USB Port: 1 USB Port: 1 Micro SD Card Slot: 1 3.5mm Headphone Jack: 1 Microphone: 1 DC IN Jack: 1
Related posts: