Polaroid 9 Android 4.0 Internet tablet review
Polaroid 10 1 Android Tablet
March 3, 2017 – 03:48 pm
All Android tablets are the same is something I have heard stated, well I disagree and here is a great example of a company giving more than you normally get, one such added extra is a full size USB port so importing or exporting is just a matter of attaching a USB stick.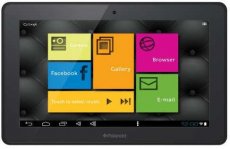 click image to enlarge
This particular Android table is from Polaroid and measures 26.5x16.5x1.3cm while weighing 672grams. The viewable screen is 22x12.5cm. The system is delivered with Android version 4 (Ice-cream Sandwich).
There is a small 28 page User Manual that is well laid out with illustrations to explain all the controls and connections.
The screen is capacitive and multi touch so enlarging or reducing something is just a matter of opening or closing two fingers.
4GB or storage is provided and you can attach a micro SD card up to 32GB to give extra storage as well as anything you want from a USB stick, the largest I currently have is 8GB but it happily read and wrote to this stick.
It has a front facing VGA camera and during my tests I used this to carry on video conversations using Skype.
The internal battery is 5000MA and I found it lasted well during extensive tests and a full recharge from empty took 165mins.
I cannot remember another Android unit that not only has the normal soft buttons for back, home and open applications but also a small silvered button to the right of the screen to allow you to go back a screen, nice. .
click image to enlarge
For anyone new to Android the Interface Introduction screen explains all the icons you see in the bottom bar on the screen.
On first switch on you should go to Settings and set-up a wireless connection. After this either enter your Google or Gmail account or get one and from then on everything is simple. Anything you want but do not already have is available from 'Play Store' either for free or very cheaply. I know a number of people who no longer use a PC but just do everything they want on an Android tablet. This allows easy email and Internet access from your armchair. I watched several programs on BBC iPlayer and while a 1024x600 screen is not HD in 1920x1080 as on your TV you are holding the device a lot closer than you view the TV. There is also plenty of volume from the rear mounted speaker.
While the front of the unit is black the back is white and this means that the labels beside the connections are easy to read. So going round the sides starting at the top, the on/off button and volume rocker button, they are different sizes so easy to feel the difference. The left side and base are clear, the back has the speaker and should you need it a pin hole reset. The face has the screen and the silvered back button, this leaves the right side.
Full size USB, micro SD slot, mini USB (cable provided), DC input, mini HDMI out and 3.5mm headphone jack.
I found the screen responsive and for those addicted to games a version of Angry Birds Space is provided to start you off. The provided HD player will play items directly from a USB stick or micro SD card and the File Manager that lives on the Home screen along with Settings, Music and Browser are all immediately available and not hidden amongst the Apps on a lower screen. Items you get from Play Store are also placed on the Home Screen.
While such reviews are always shorter than I would like this one left me thoroughly invigorated and wanting more. The Polaroid 10.1inch Android tablet 40500 is available from the link below for £149.99 Inc delivery.
Source: www.gadgetspeak.com
Nextbook / 7GP / 8 GP Wireless Keyboard, COOPER AURORA 7-Color Backlit LED Wireless Bluetooth QWERTY Keyboard with Rechargeable Battery for Nextbook / 7GP / 8 GP (White, Ultra Light,& Slim)
PC Accessory (Cooper Cases)
Backlit full-sized US English QWERTY Keyboard making you more efficient no matter the device, including Nextbook / 7GP / 8 GP.
Aesthetic design available in 4 colors with aluminium undercarriage for enduring sturdiness and durability.
Regular, laptop-like keys and helpful shortcut keys make you more productive and relieve you of having to reach for the screen to switch between apps or perform...
Keyboard backlight LEDs available in 7 color variations, for personalization and mood setting, illuminate your keyboard when it s dark.
All stock shipped from USA. Next day delivery available with Express shipping (excl. remote areas).
Related posts: