Largest smartphone screen
Never Get Enough with the Largest Smartphone Screen
May 29, 2017 – 01:36 am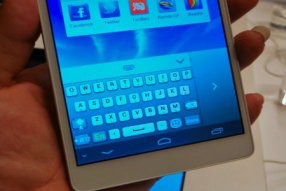 Devices with the largest smartphone screen are also known as phablet (phone-tablet). The normal sized devices have gotten themselves a minor upgrade on the overall size. It was a response to consumers who want the better visual experience of their smartphones. Many companies offer their flagship device on bigger screen.
The Devices with the Largest Smartphone Screen are As Follows
Huawei MediaPad X1
Huawei is known for their smartphones and tablet products. MediaPad X1 is one device with largest smartphone screen with the size of 7 inch screen with the resolution of 1200×1920. The design build of the device feels more like a smartphone rather than tablet, with the slim bezels around the device. The MediaPad X1 comes with a quad core processor and 2GB of RAM. It has 13 megapixel rear camera and 5 megapixel front camera. It has 16GB of internal storage with microSD slot up to 32GB expansion. The battery performance is as good as the size of the device suggests, powering a 5500 mAh battery for the whole day usage.
Sony Xperia Z Ultra
Sony is one of the most competitive electronic companies out there, and came along with the Xperia smartphone family. Xperia offers its largest smartphone screen to the Xperia Z Ultra, which is an upgraded version of its little sibling Xperia Z. It comes with the screen size of 6.44 inch screen with 1920×1080 resolutions. The performance of the device itself can be considered outstanding with its 2.2GHz processor, 16GB internal storage with 2GB of RAM. The camera performance is somewhat mediocre as the device offers 8 megapixel camera for the rear and 2 megapixels for the front. The battery is a 3050 mAh battery which is expected to make do of the device for daily and mixed usage.
Lenovo Phab
The other largest smartphone screen is brought by Lenovo with its device product called Lenovo Phab. It's equipped with a gigantic screen of 6.98 inch with 1280×720 resolutions. The device offers a mediocre performance with quad core 1.2GHz processor with 1GB of RAM. The device also comes with 16GB of internal storage with expandable storage up to 64GB with the help of microSD slot, which also works as a secondary SIM slot. The camera offers a 13 megapixel for the rear and 5 megapixels for the front. The battery is quite good as the device is big with a 4250 mAh battery. The overall performance should be able to adapt with the battery power.
Source: intechmo.com
OMOTON iPhone 7 Plus Screen Protector [2 Pack]- [9H Hardness] [Crystal Clear] [Bubble Free] [3D Touch Compatible] Tempered Glass Screen Protector for Apple iPhone 7 Plus
Wireless (OMOTON)
Particular Design: Laser-cut dimensions provide maximum protection for the screen of your device. The curved edges can not be covered. Only fit for Apple iPhone...
Scratch Resistant: This 9H Hardness screen protector can effectively protect your iPhone 7 Plus from unwanted scuffs and scratches by knife, keys and some other...
Easy installation: Bubble-Free Adhesive makes it easy to install this iPhone 7 Plus screen protector; 2.5D Rounded Edges: Smooth feeling at all edges
HD Retina Clarity: High-Transparency provide you high-definition clear viewing. Hydrophobic Oleophobic screen coating protects against sweat and oil residue from...
BUY 2 SAVE 5%. If you buy 2 or more you will save 5% for each one at checkout (no coupon necessary). Buy for a friend or loved one and save together. And OMOTON...
PowerBear LG V10 Extended Battery [6500mAh] & Back Cover & Protective Case (Up to 2.2X Extra Battery Power) - Black [24 Month Warranty & Screen Protector Included]
Wireless (PowerBear LLC)
GO BEYOND YOUR POWER: Increase your battery power with the PowerBear LG V10 Extended Battery. A high capacity battery with up to 220% capacity of the standard battery...
MAXIMIZE YOUR POWER: With the V10 Extended Battery, you have the ability to increase your battery capacity drastically. Compared to the existing standard battery...
EASY TO USE: This V10 LG Extended Battery is extremely easy to install and use. After turning off your device, just remove the back cover of your smart phone along...
GRADE A+ BATTERY CELLS: The Extended Battery for V10 LG uses Grade A+ rated battery cells with CE and ROHS certification. Each battery comes with a special chip...
24 MONTH WARRANTY: PowerBear stands behind our products. If you are not 100% satisfied with your new LG V10 Battery, just let us know! Contact us via Amazon and...
iPhone 6S Plus/6 Plus Screen Protector,Airsspu Glass Screen Protector 2.5D Edge Tempered Glass,Bubble Free,3D Touch Compatible,Anti-Fingerprint,Oil Stain&Scratch Coating,Case Friendly[3 Packs]
Wireless (Airsspu)
Particular Design: Laser-cut dimensions provide maximum protection for the screen of your device. The curved edges can not be covered. Fit for Apple iPhone 6S Plus/6...
Scratch Resistant: This 9H Hardness screen protector can effectively protect your iPhone 6S Plus/6 Plus from unwanted scuffs and scratches by knife, keys and some...
Easy installation: Bubble-Free Adhesive makes it easy to install this iPhone 6 Plus/6S Plus screen protector; 2.5D Rounded Edges: Smooth feeling at all edges
HD Retina Clarity: High-Transparency provide you high-definition clear viewing. Screen coating protects against sweat and oil residue from fingerprints and keeps...
Buy for a friend or loved one and save together. Airsspu provide you friendly customer service and lifetime warranty
Related posts: