IPhone 5s Otterbox Commuter review
OtterBox Commuter + Defender Series Cases for iPhone 5
June 10, 2023 – 02:34 am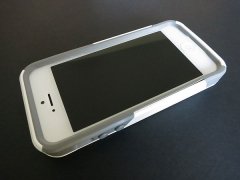 Without a doubt, Commuter Series is the least protective of this grouping; it's really not on the same level as the others, and the lower price reflects that. The case is actually quite similar to its iPhone 4 predecessor: instead of interlocking units with extra padding and integrated screen protection, this one is just a rubber skin with a plastic frame that fits around it. Despite this, it's not what we'd call slim; you'll certainly notice Commuter in your pocket.
The quality of the materials is pretty nice, which is no surprise from OtterBox—both the plastic and rubber feel like they could take a pretty substantial beating. Protection for the iPhone 5 isn't quite as comprehensive as with the others, but coverage is still pretty good. In addition to forming flip-open covers for the bottom ports and a lip around the screen, it also protects the volume and Sleep/Wake buttons. The top one takes a significant amount of pressure to activate, more so than any of the other cases in this roundup. Our biggest gripe with the case is, yet again, that OtterBox decided to leave the Apple logo fully exposed. While the aluminum back may not be prone to shattering like the glass panel on the iPhone 4 and 4S, it still can be scratched. There's no reason for this design choice: it's ugly, under-protective, and we really would like to see OtterBox stop it already. Commuter does come with screen protector film, a cleaning cloth, and a squeegee, so users can cover and wipe down the screen if they choose.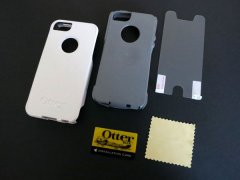 Defender Series is a different story. It's OtterBox's flagship case, and the one people tend to associate most closely with the brand. This time around, it's not just a stretched version of the last-generation case, but has actually been improved to go along with the slimmer iPhone 5. The case is still composed of a snap-together plastic case, rubber lining, and belt holster, but now offers a slightly cleaner look. Once the device is encased in the plastic portion with its padded back, the outer layer wraps around quite easily and impressively stays in place. It's not going to come off unless you want it to, and even then, you'll really have to pull at it. We found pulling at the area around the Home Button to be the best method to get it started.
Once together, Defender is slightly bigger in every dimension than Commuter, although not as much as one might guess. OtterBox's plastic layer is only left exposed in a few places, most significantly over the bezel. The only portions of the phone that aren't covered are the iSight camera on the back, the light sensor, earpiece, and FaceTime camera on the front, and the speaker and microphone at the bottom. Although OtterBox again chose to show off the Apple logo on this case, the company at least covered it with a sheet of clear plastic so that it can't be damaged. We still don't like the aesthetics of the rear circle, and have hoped to see OtterBox remove it for years, but it doesn't torpedo the otherwise improved case design.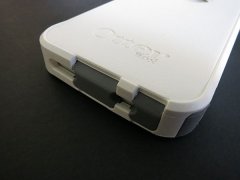 Defender's covered buttons maintain a nice tactility—even the Home and Sleep/Wake buttons—and the covered ports are easily accessible. We also liked the new screen protector, as it's totally clear and almost unnoticeable. There's no air gap, so other than the plastic texture, it feels as if you're touching the screen. The belt clip is a black plastic slab the size of the case with a clip that rotates all the way around, and fully detachable. Even without it, Defender is a bit of a brick, but feels like it could take a beating. Just bear in mind that it's not waterproof, a feature OtterBox built its name upon.
Although none of these cases is for everyone, those prone to damaging their iPhones in daily life or extreme situations will find them to be lifesavers. Our favorite of the bunch is OtterBox's Defender Series Case, with Griffin's Survivor and Ballistic's Every1 Series Case coming in right behind it. This is the best version of Defender yet; it looks even better than ever and it's still super protective against drops and bumps. While it's not waterproof, it's still impressive, and earns our high recommendation. Survivor is unquestionably more protective, but its size and build make it feel more like a toy. That said, it remains worthy of our strong general recommendation. Every1 is the slimmest of the bunch, and doesn't feel quite as substantial, but still offers full coverage and drop protection. Commuter is the weakest of the bunch, earning the same B rating as the past version. OtterBox didn't make any real improvements to this one, and there are plenty of other cases we'd recommend above it, but it's acceptable as a thinner and less expensive alternative to Defender.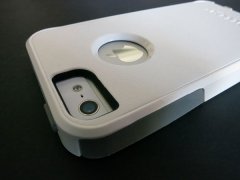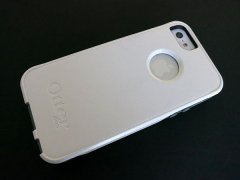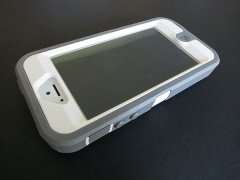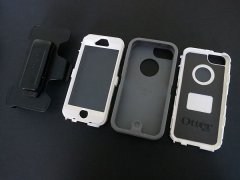 Source: www.ilounge.com
OtterBox Apple iPhone 5/5s Case Commuter Series, Glacier


Wireless (OtterBox®)




Maintains access to all features and functions
Silicone plug covers keep dust and debris out of the main openings
Interior rubber layer cushions from drops and bumps
Sleek exterior shell deflects impact away
Adhesive screen protector prevents smudges and scrapes, Includes bubble squeegee
Related posts: