Worst Android tablet
Worst gadget ever? Ars reviews a $99 Android tablet
July 22, 2017 – 09:23 am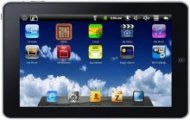 It really says something when some of your customers ask the Internet whether they got the right thing when they received your product, or whether it got switched out with some joke Chinese knockoff that's not really supposed to work.
The Maylong M-150 TabletPC is an Android-based device sold by Walgreens for a mere $99 a pop. The obvious purpose for this tablet's existence is to appeal to bargain basement shoppers—grandmas, poor college kids, those on a tight budget—by claiming to offer a full tablet experience for cheap. I mean, it runs Android, right? That's a legit operating system nowadays. Unfortunately, the Maylong M-150 is the very epitome of "race to the bottom, " and anyone looking to buy one would get more bang for the buck by setting it on fire for warmth.
What you get
On paper, the Maylong tablet looks... okay. It has a 7" screen, but is limited to a resolution of 800x480. It has a resistive touchscreen instead of a capacitive one like the iPad or Galaxy Tab, a 400MHz (or 533, depending on whom you ask) processor, 256MB of RAM and 2GB of built-in storage. It comes with 802.11b/g for WiFi and no 3G support, though it claims to be able to use USB-based 3G cards via the extra dongle that comes in the box. It weighs less than a pound and comes with Android 1.6. Hey, what do you expect for 0?
In the box is the tablet itself, the aforementioned dongle, the power cable, and a very simple manual. The stylus rolling loose around the bottom of the box was a very nice packing touch.
The tablet itself is made entirely out of plastic and, upon first glance, is practically an exact (but shrunken) replica of the iPad. There is a camera positioned at the top (curiously not mentioned in the specs) with an Apple-like Home button on the bottom of the bezel. There's an on/off button—which is really just a lock/unlock button—at the very top and volume controls on the right side, along with a Menu button. The bottom sports two speakers, a power jack, headphone jack, and microSD slot.
Because it's made out of plastic, the M-150 is lighter than you would expect for its size, making it feel cheap. If you press hard enough with just one hand, you can make the entire thing flex—yes, including the screen. Don't sit on it. It's also surprisingly thick—Maylong's website claims it's 0.3" thick, but our measurements put it at just a hair under 0.75" thick.
The manual that comes with the M-150 (yes, we read the whole thing) recommends using the free-floating stylus for a better touchscreen experience. We'll refrain from commenting on the absurdity of that recommendation, but it's particularly frustrating because there's nowhere to store the stylus on the device. We'd be surprised if anyone managed to not lose it after a week.
Usage
Despite our low expectations, we really wanted to give this thing a fair shake. We'll be honest though: doing so is basically impossible for any sane person who values their time in any way.
First up is the atrocious screen, which is not only flimsy and ugly to look at, but sucks as a touchscreen. The screen is significantly less sensitive than the capacitive screens on other tablets (some claim that resistive screens should be better, but this one is most certainly not), and you have to mash your finger into the screen to get it to take any input. And good luck with the stylus that came with the tablet, too—if you haven't already lost it because there's nowhere to store it, you'll find that it's not significantly better than using your finger. You still have to mash it into the screen a bit in order for it to work.
Of course, it's hard to know whether it's taking your input no matter what you do. The lag is slow and inconsistent, forcing you to always wonder if you need to hit something again or whether the M-150 is just trying to figure out if you hit S, A, or D. (My luck with guessing the right answer to this question is about 50/50.) The screen refresh rate on my old Kindle 2 is faster than the M-150. Seriously—I tried them side by side.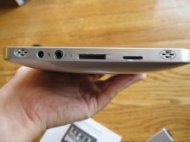 Really, it's hard to determine when you're successfully doing anything, and trying to achieve a simple task like entering a WiFi password or searching for an app on the "App Market" takes minutes per task. It got to the point where using the device for simple things became such a chore that I would rather just not do it at all than battle the M-150 for the next 15 minutes.
Speaking of the App Market, it's a slimmed-down version of the regular Android Market, though we must say that we never did get any apps to work properly, largely because they wouldn't connect to the Internet. I was most interested in trying to get the Kindle app to work, since that's the one task I could imagine being bearable and the Kindle store has the largest selection of all e-book stores. However, no matter how many times I was able to confirm that WiFi was working in the browser, the Kindle app kept kicking me back to say that WiFi was not working. The same goes for other apps as well; there was simply no way to get them to use the WiFi, despite the fact that the WiFi was on.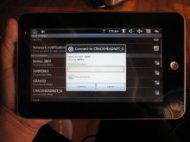 In fact, even the M-150's built-in apps have trouble functioning correctly much of the time. The built-in e-mail application had the same problem as the Kindle app—no WiFi, despite the WiFi working elsewhere. And the camera application, for instance, makes use of the built-in camera and slaps a number of ugly frames on top. There is, however, such a significant lag that it's difficult to frame yourself to begin with, and when you tap the "Share" button in hopes of sending it to someone, or perhaps posting it online, an error pops up saying, "No applications can perform this action." None whatsoever? Okay, then.
Oh, and because it's random enough, we thought we'd note that our M-150 appeared to come preloaded with a 3-second-long video of someone pointing it at a wall. Fancy! We hope Maylong's other two customers got the same special treatment.
There's one thing that the M-150 does well: take screenshots. There's an eye icon at the top of (almost) every screen that, when pressed, saves a shot of the screen to your Pictures. Unfortunately, some of the best screens (such as the interface to use the camera) didn't have this button, so I have no screenshots for you. And getting the screenshots off the device was a challenge in itself (especially since the mail client wasn't working).
Luckily, we were able to plug a USB thumb drive into the external dongle that came with the M-150 and muck around with the file transfer interface for a half hour in order to accidentally stumble upon a way to transfer the pics. We'll also note that the screenshots look far, far better than the M-150's actual screen.
This is out of context, but what's going on up in that menubar?
Battery life
Maylong's website doesn't specify any details about the non-user-replaceable battery, but does say that it has a standby time of 2-3 hours. That's not usage time, folks: that's how long the thing will last in your bag after you unplug it, and according to our use, it's a pretty good estimate. If you charge it before leaving for the airport, there's a pretty good likelihood that the M-150 will be dead by the time you get on the plane.
Source: arstechnica.com
Samsung Galaxy S6 Edge Case - Poetic [Affinity Series] - [TPU Grip Bumper] [Corner Protection] Protective Case for Samsung Galaxy S6 Edge (2015) Frost Clear/Black (3-Year Manufacturer Warranty From Poetic)
Wireless (Poetic)
Fortified bumper made of dense TPU for maximum drop protection at the corners
Frosted transparent back shell highlights the Samsung Galaxy S6 Edge, not your fingerprints
Raised lip for screen protection from surface scratches
Molded edges for a sturdier grip on your device
Designed for the Samsung Galaxy S6 Edge. Made by Poetic.
X5 Mobile® 2000 mAh External Battery Pack Power Bank for iPhone 6 6 Plus 6S 6S Plus, iPad, Samsung Galaxy, and All Cell Phones iPhone and Android (Black)
Wireless (X5 Mobile)
POKEMON GO PLAYERS! NEVER WORRY ABOUT PRESERVING YOUR PHONE S BATTERY: Forgot to charge your phone or drained your battery after watching videos and in desperate...
COMPACT: Ultra portable and easy to carry when away from home or office. Easily fits into a purse, bag, or briefcase and ready to charge your cell phone
POWER UNLEASHED: 8 hours of talk time or one full charge to your iPhone 5 / 5S / 4 / 4S / 3G / 3GS; Add 80+ hours of audio playback or a full charge to the battery...
COMPATIBLE: Fast and efficient charger for iPhone 6S, iPhone 6S Plus, Samsung Galaxy S6, Note 5, and More (Note: Lightening cable cord and Galaxy S5 Note 3 cable...
SPECS: Weight: 2.7 ounces; Input: 5V 0.8A; Output: USB DC 5V 0.8A; Input charging time: 2.5 hours
Related posts: