IPhone 6 Plus video review
Camera
November 3, 2015 – 01:12 pm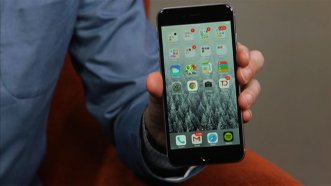 The iPhone 6 Plus has an 8-megapixel rear camera similar to the camera found on the iPhone 6. It comes with the same new phase detection feature for faster focussing that Apple calls 'Focus Pixels' and allows you to change the light balance on the fly. Focus pixels help the iPhone 6 Plus focus a lot more quickly than the iPhone 5S before it.
There is one important difference between the iPhone 6 Plus and the 6 – it includes optical image stabilisation. It's by no means the first phone camera to use it, we've seen it in Nokia phones in the past and the Nexus 5 last year, but it's the first Apple phone to have it.
What is Optical Image Stabilisation (OIS)?
Optical image stabilisation helps you take good quality photos by using a gyroscope to keep the lenses stable. This comes with some major benefits when you're shooting. The most important is that you can get sharp, blur-free images even in low light conditions.
To get the most amount of light possible the shutter speed of a camera is slower in dark conditions. This means that any slight hand movements while taking the picture are exacerbated, leading to out of focus images. OIS particularly helps eliminates some of issues associated with taking phone pictures one-handed, where you're less stable.
The OIS on the iPhone 6 Plus (right) means less noise and better colours compared to the iPhone 6 (left)
In our test shot in low light conditions (above) the iPhone 6 Plus provides pictures with less noise than the iPhone 6. Those big pixels also mean it's streets ahead of the Samsung Galaxy S5 in dingy lighting.
Best Deals for Apple iPhone 6 Plus
In our test shot on an overcast Sunday afternoon you will notice that the iPhone 6 Plus's shot is a little brighter and the colours more authentic.
However on a bright and sunny day the differences between the iPhone 6 Plus and its little brother are negligible. In these conditions the extra pixels of the Samsung Galaxy S5's camera makes it shine, providing more detail than the iPhones can muster.
From left to right: iPhone 6, iPhone 6 Plus, Samsung Galaxy S5
In terms of video the iPhone 6 Plus shoots full HD, so it doesn't quite match the 4K shooting that some other flagship phones offer. It does, however, come with sensational slow motion video capture that now captures 720p video at 240FPS. It's easy as pie to use and results look fantastic.
240FPS Slo-mo video
Optical image stabilisation improves the video capture on the iPhone 6 Plus, too. It smooths some of the movements that occur when videoing on the move, but not as much as we expected. The iPhone 6's software stabilisation does a good job of keeping video from juddering too much and you'll be quite happy with shooting video on it. The iPhone 6 Plus's OIS helps eliminate these movements even more.
Watch a video comparing image stablisation of the iPhone 6 and iPhone 6 Plus
The iPhone 6 Plus does not manage well with large, sharp movement during video recording. The stabilisation tries to overcompensate and results in video that is over processed. A video we took with it strapped to a bike's handlebars looks like it's been shot underwater.
The front facing camera has also had a boost. The aperture has been increased to f/2.2, which means more light gets to the sensor and better selfies can be taken in low light conditions.
Source: www.trustedreviews.com
Omni INC 3PCS White Universal USB Port Colors USB AC/DC Power Adapter Home Wall Charger Plug W/ Easy Grip for iPhone 6/6 plus 5S 5 4S Samsung Galaxy S5 S4 S3
Wireless (omni Electronics)
Provides fast charging speed for your Iphone and other smartphones. Charger with IC chip inside is designed to identify fully charging with safety usage.
Protection against over charging, over currents, and over heating
Charge your device quickly at home or office.
Input: AC 100-240V | Output: DC 5V m 1500 mA
NOTE: These chargers are not compatible with tablets! They do not produce enough amp to charge with tablets. Not compatible: iPad Pro 9.7. Google Pixel C. Samsung...
Car Phone Holder, F-color Air Vent Car Mount Holder Magnetic Car Holder for Phone Magnet for iPhone 7 6 6S Plus 5S 5 5C, Google Pixel, LG, HTC and more, Black
Wireless (F-color)
Powerful Magnetic Attraction Force: For 3 super high-poewerd magnets providing powerful holding power, the cell phone holder for car magnetic attracts any phone...
Easy installation and operation: Easy to install and remove the car holder for phone from the air vent; Within a split second you can take your cell phone, with...
Screwable Metal Claw and 360 Degree Rotation Design: Different from other magnetic car mount, the inset portion into the air vent is a screwable Metal Claw, which...
Universal Compatibility: Universal fits most cellphones, including Apple iphone 7 6s 6s Plus 6 6 Plus 5s 5c 5 4s 4 SE, iPod Touch; This cell phone stand magnetic...
Warranty and Notices: F-color car smartphone holder has 12 months warranty; Notics: 1. Please remove the metal plate before using wireless charger for the metal...
Phone Card Holder,NALAKUVARA Strong 6 Pack Mix Color Adhesive Sticker ID Credit Card Wallet Pocket Pouch Sleeve Universal Size For Most of Phones (Iphones / Samsung Galaxy / Sony Ericsson / LG)
Wireless (NALAKUVARA)
Made of silicone material, with back adhesive sticker to stick it to the smooth back of your phone
Easy to use: peel off the cover of the sticker and stick to your phone back, and finish by softly pressing
Suitable to fit up to 4 cards, such as: ID card, credit cards, driver s licence, business cards, membership card, insurance card, discount card, frequent flyer card...
Can also be used to store money, charging cable, earphones, flash drive, cigarette lighter, etc.
6pcs Color will be randomly dispatch, all depend on stock! Supports all smartphones which have a flat back, fit standard size business cards, ID cards and credit...
Card Holder, Sinjimoru Stick-on Wallet functioning as iPhone Wallet Case, iPhone case with a card holder, Credit Card Wallet, Card Case and Money Clip. For Android, too. Sinji Pouch Basic 2, Black
Wireless (Sinjimoru)
WORLD FIRST STICK ON WALLET: We invented and launched the worlds first innovative smartphone wallet pouch able to substitute your thick and hard wallet.
MILLION SELLER IN THE WORLD MARKET: Not only in Korea but in Amazon Online market, we already have sold Sinji Pouch more than a million. Sinjimoru Inc. strives to...
SUPERB ELASTIC POUCH: It can store maximum 10 credit cards by qualified excellent elasticity. Keep enjoying your exercise, hang out, and dancing without any anxiety...
CLEAN REMOVAL WITHOUT VESTIGE: Posterior 3M adhesive can be removed very clear, it makes you feel free due to no dirt and residue on your phone or protective case.
UNIVERSAL SMARTPHONE COMPATIBLE: Any type of smartphone which has enough flat-back for credit card, can use this pouch; thus, step up your convenience and feeling...
Wilist 6 Pack Short Apple Lightning Cable with Keychain Key Ring Lightning 8 Pin to USB A Adapter Data Sync Charging Cord Support Quick Charge 3.0 or 2.0 Charger Made for iPhone iPad iPod ~ 8 Inch
Wireless (Wilist)
6 Colors: (White Black Rose Green Orange Blue) You can hang them on bags, keys, cell phone cases It s so cool
Quick Charge & Sync: Standard USB 2.0 transfer speeds up to 480Mbps. Support Quick Charge 3.0 or 2.0
Compatibility: Apple Lightning 8pin connector is suitable for iPhone 5 5c 5s SE 6 6+ 6s 6s+ 7 7+ iPad iPod and more Apple devices
What you will get: 6-Pack Lightning to USB Cable with Keychain and a Gift (Stylus Pen). Please note that the size of the connector whether fit your cell phone cases...
One-Year Warranty (refund or resend) Please read the description. If you aren t satisfied with our products, Please contact us before giving a bad rating, Because...
Related posts: